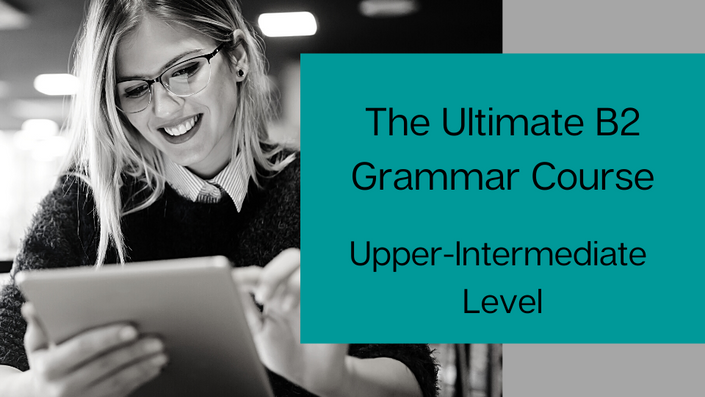 Ultimate B2 Grammar Course
​A complete review of B2 (upper intermediate) level English grammar.​
"I can understand English quite well,
but I don't feel confident about my grammar "
Would you like to really master English grammar and feel certain that you're speaking correctly?
I think there are two reasons why we sometimes don't speak English correctly.


1) There are some grammar points that we don't understand completely.
2) We haven't practised using the grammar enough.
In this course, we're going to fix both of these problems.

During this course, you will:
Understand the tricky parts of upper intermediate grammar. I'll explain them clearly and in detail.
Practise the grammar so that it becomes automatic and rolls out of your mouth without hesitation in conversations.
Remember the grammar rules and forms that you've studied so that you don't waste all your hard work by forgetting them.
Stop slowing down to look for the rule or the verb form in your mind when you're speaking.
Review all the grammar at B2 level so you can feel confident you know all of it. (English grammar isn't huge! It's possible to cover it all).
This course is closed for enrollment.

We'll learn:
How to use the present perfect continuous, the past perfect continuous and the future perfect continuous properly (and how they are similar to each other)
How to use past and continuous tenses to be polite in the way that native speakers do.
How to sound educated by using inversion and more advanced conjunctions.
How to avoid mistakes with 'the', 'a' and 'an'.
How to use relative clauses to make more sophisticated sentences
How to use the passive (including the passive infinitive) to focus the listener's or reader's attention
How to use modal verbs like 'should', 'must' or 'would' and negative questions to elegantly show how you feel about something
How to use the conditionals properly without hesitation (there are more than four!)
How to use reported speech in a more sophisticated way, with advanced reporting verbs (not just 'say' and 'tell')
And we'll practise so that you'll be able to use all these things easily in conversation or in writing. It's really possible to make very fast progress in grammar if you practise often.

This course is closed for enrollment.
How the course works:
Every week for the next 90 days, you'll get a new section of the course.

Each section covers a different area of grammar. We study the whole of B2 (upper intermediate).
Each section has review exercises for grammar that you should already know at B2 (so you can quickly check that you don't have any gaps).
Each section has video lessons with clear, short explanations from me about new grammar.
For each lesson there's a lot of practice (this is the part that really, really helps). I'll explain everything about the best technique for this.
Each lesson has online exercises – this is how you can start to get comfortable with the new grammar.
Each lesson has audio exercises – this is how you can practise using the grammar in speaking and also learn by listening.
Each lesson has full flashcard decks – using these in the right way will help you remember the grammar for the long term.
There are also downloadable and printable PDFs of everything.
It's an online course. It includes videos, audios, PDFs and flashcards. There are no live lessons.

More questions?
We'll concentrate on British English, but everything will also help you if you're interested in US / Canadian / Australian / New Zealand / South African English.
You'll need around 2 hours a week of study time.
You'll really be better at grammar at the end of the course.
You can use all the techniques in this course to continue improving on your own, in English or any other language you're learning.
You pay once and keep the course forever. It's no problem if you're busy now. You can start the course any time.
You can also ask us questions anytime inside the course and we'll answer as soon as we can.
There is a 30-day money-back guarantee.
Your Instructor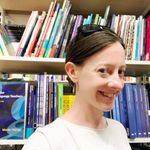 Hello! I'm delighted to meet you!
I'm Seonaid (it's pronounced 'show - na'!) and I write everything at Perfect English Grammar. I have a Master's degree from Cambridge University in English and Applied Linguistics and I've been teaching English for nearly twenty years. My website Perfect English Grammar has helped millions of students from over a hundred countries. I've studied French, German, Spanish and Japanese myself, so I know how hard it is! I'm British and I live in London.
This course starts on the 21st of September 2020

This course is closed for enrollment.